Beginning tomorrow, the snowy, far-off land of Estonia (squished between Russia and the Baltic Sea) will host the Nordic Junior & U 23 World Ski Championships – basically, the Olympics for top-level skiers under age 23. The United States is sending a very good group of 22 skiers which includes Jessie Diggins, a 19-year-old from Stillwater, Minnesota, who is one of the best skiers in the U.S.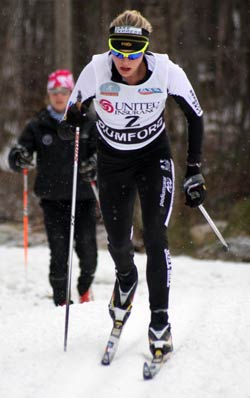 Over her high-school career, Diggins pretty much dominated the state's prep ski scene (the biggest in the nation!), leading Stillwater to state championships in 2008 and 2010 and winning three individual titles. She didn't win the individual title in 2009 because she was too busy racing in Europe. Along the way, she also accumulated five U.S. junior national championships.
Those accomplishments were prelude to the current season, which is surely Diggins's best. Skiing now on the "Vertical Limit" team of elite skiers who are supported by the Central Cross Country Ski Association (which governs XC skiing in the Midwest), Diggins competed in November and December on the top-level ski circuits in North America. She did pretty okay, racking up ten top-20 finishes, including two fourth places, a second place, and, just before Christmas, two wins in a tough three-event "mini-tour" in British Columbia.
This great racing set Diggins up for the U.S. National Championships, where she raced well in two races before capping the week with a national championship in the freestyle sprint. She actually crashed late in the race, but managed to ski her way back up to the other racers and then take a very narrow win – her first senior-level national championship, and the first for a Minnesotan in a long time.
All of that is great, but this Minnesota skiing fan hopes that, in turn, Diggins's nationals title is the springboard to great racing in Estonia. The races there will be contested by many of the best young skiers in the world, but it would be great to see Diggins – or another American – win a spot on a podium.